[New Launch + Products introduction]
The hair guru to Hollywood's most dazzling stars, Toronto-based stylist Marc Anthony launched his Marc Anthony True Professional® in Singapore.
Marc Anthony True Professional®, solution-based products specifically tailored to the unique hair care and styling needs of modern individuals and formulated with proven and luxurious ingredients.

True Professional® ranges comprises both styling and treatment solutions to suit all hair types and all occasions.  His salon perfected treatment options are key to maintaining healthy vibrant hair amidst regular teasing, chemicals and heat processes.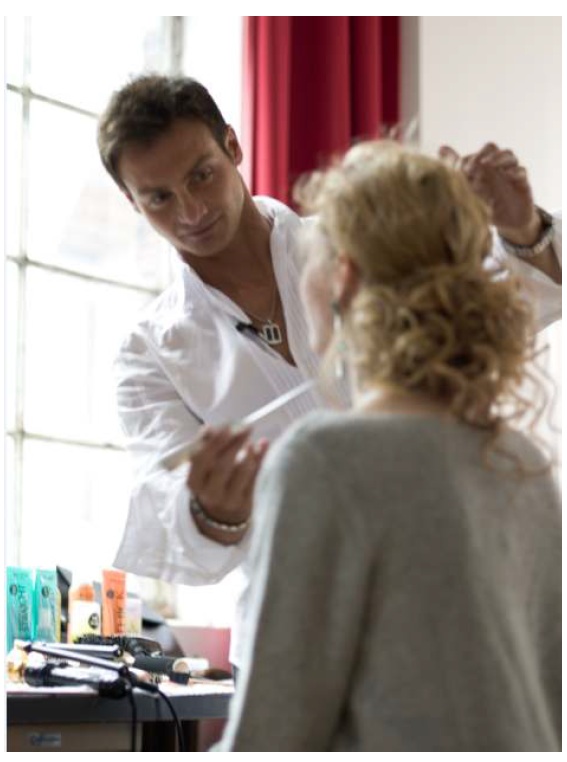 Marc Anthony's vision was born from the cutting chairs of the first Marc Anthony salon, with the aim to help all clients maintain salon-fresh looks wherever they go. And the ultimate goal was to create products that are easily available, convenient and affordable.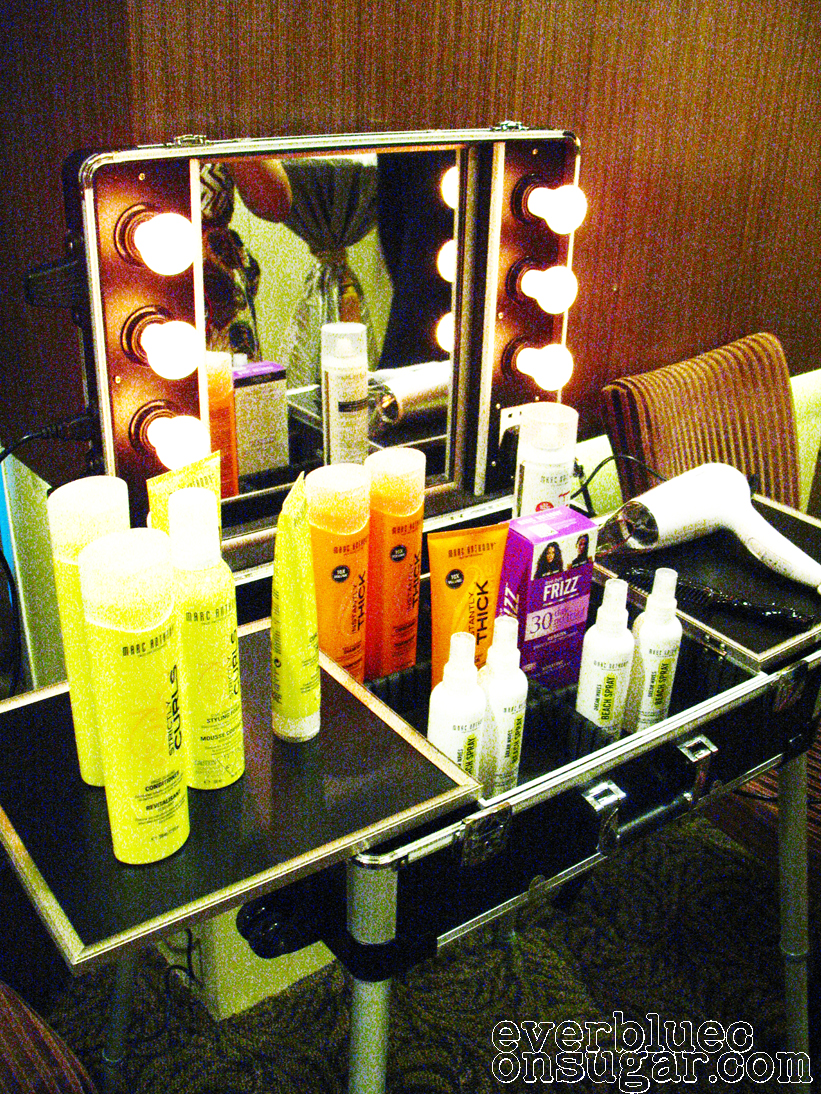 Marc Anthony knows exactly what it takes a create red-carpet worthy tresses that will wow the cameras. Flying between Toronto, New York and Los Angeles, Marc Anthony and his hand-selected team have become synonymous with celebrity styling, tending the tresses of celebrities including Catherine Zeta-Jones, Blake Lively, Paris Hilton, Fergie, Eva Longoria, Justin Bieber and many more at prestigious events like the Oscars, Emmy's, Grammy's and Toronto's International Film Festival.
I steal the below pic from Tiphanie -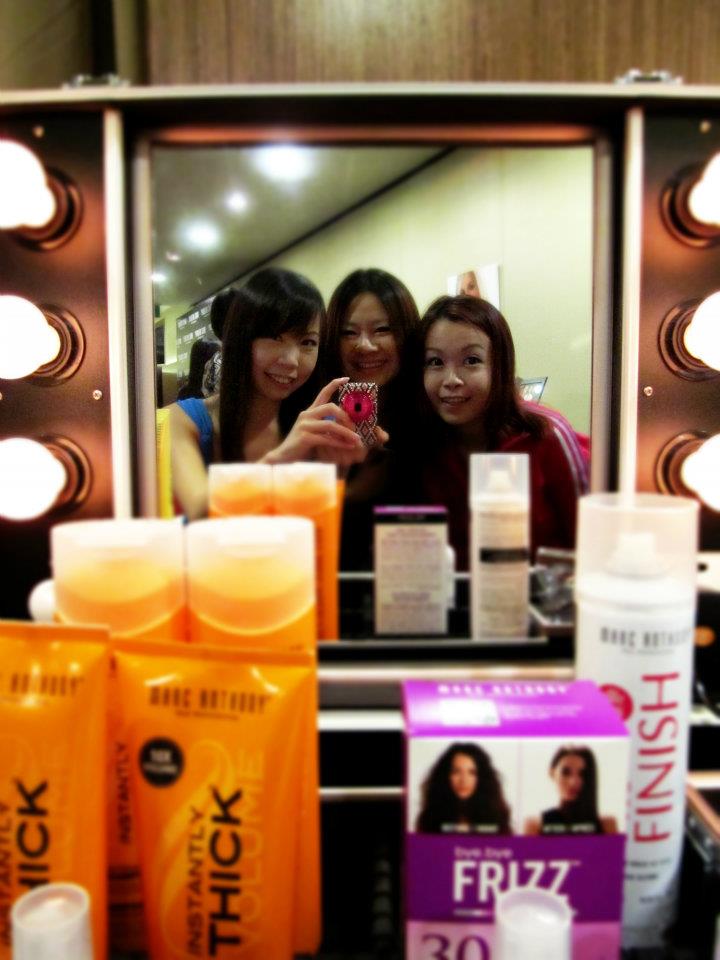 Here's the informations and images I've extracted from the press file.

STRICTLY CURLS - THE #1 BRAND FOR PERFECTLY DEFINED CURLS
By Marc Anthony Hair Care
Marc Anthony defines frizz-free curls with the Strictly Curls Collection of hair products by defining every tendril to make a beautiful crown of curls.
Enriched with Vitamin E to tame temperamental curls. Curly hair is naturally dry because the bend in the hair strand opens up the cuticle layer to let moisture escape. Vitamin E acts to replenish lost moisture and nourish the cortex.
Strictly Curls smoothes down the cuticle layer preventing the escape of moisture and the possibility of frizz and tangles. Every product in the collection is designed to nourish and smooth curls for spring like, frizz-free tendrils.
STRICTLY CURLS CURL DEFINING SHAMPOO
Price: SD$$16.90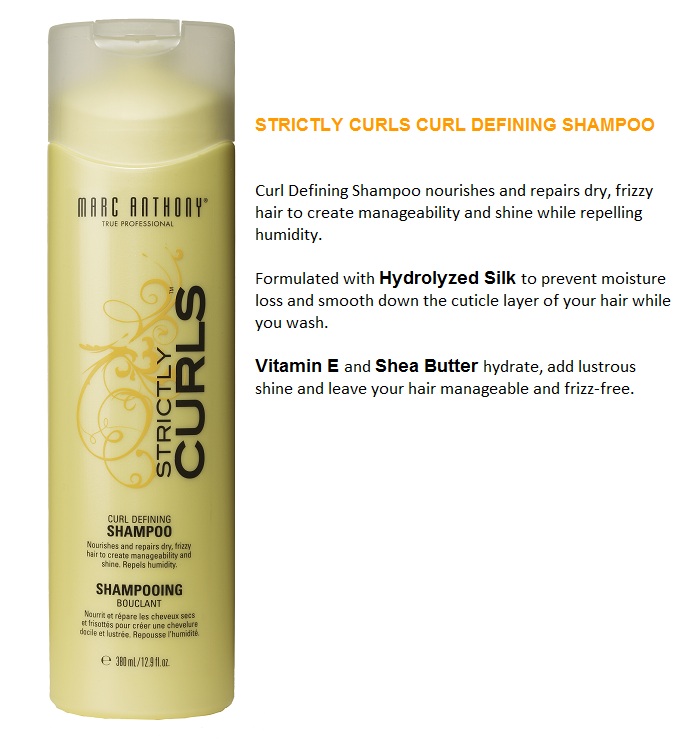 STRICTLY CURLS FRIZZ SEALING CONDITIONER
Price: SD$16.90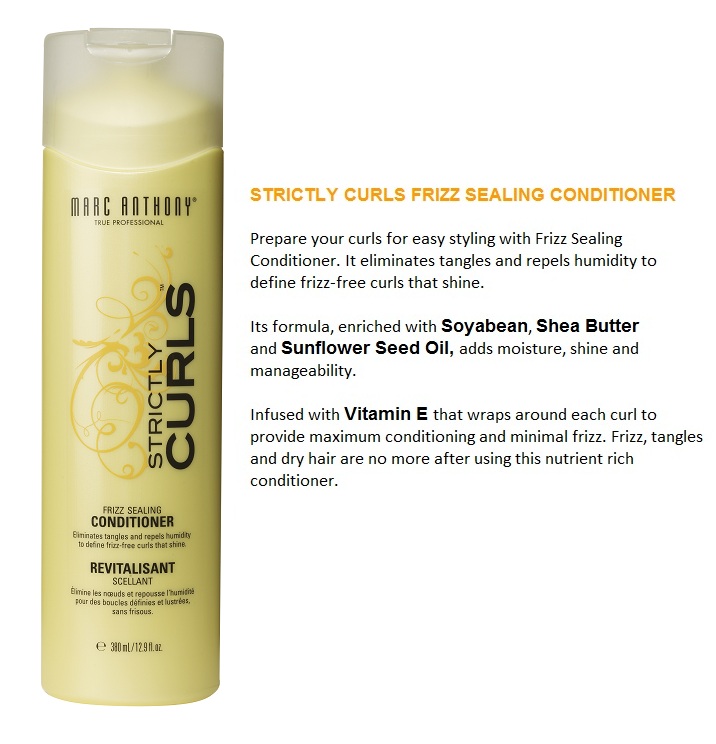 STRICTLY CURLS CURL DEFINING LOTION
Price: SD$18.90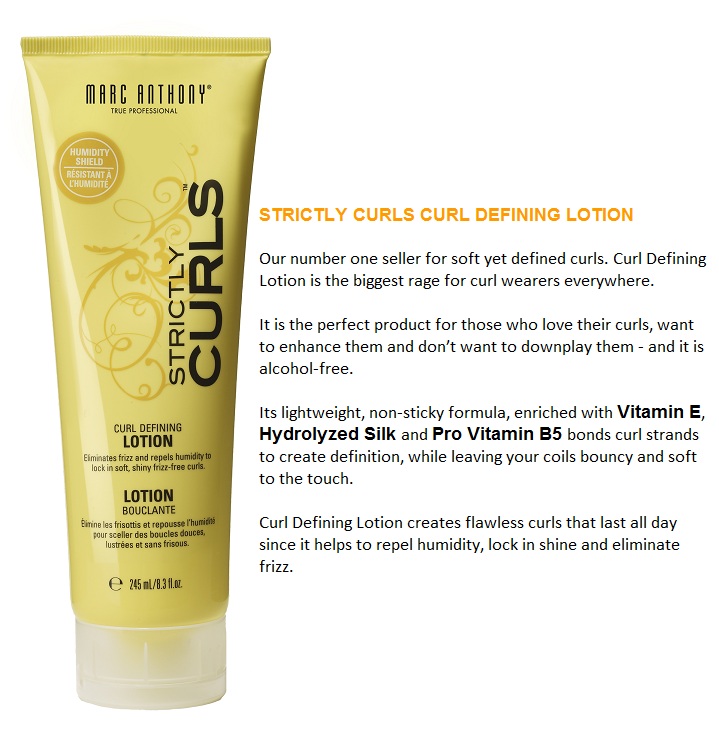 STRICTLY CURLS CURL ENHANCING STYLING FOAM
Price: SD$21.90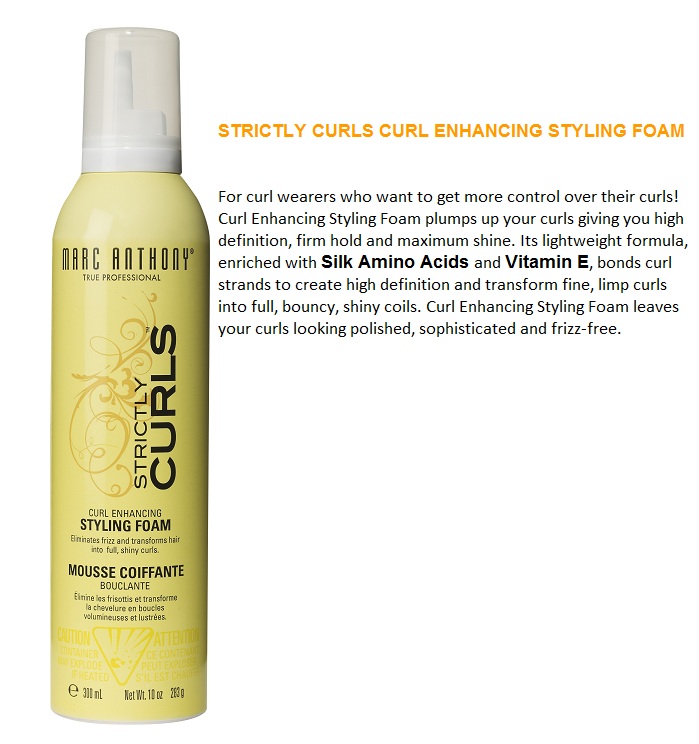 STRICTLY CURLS CURL ENVY PERFECT CURL CREAM
Price: SD$18.90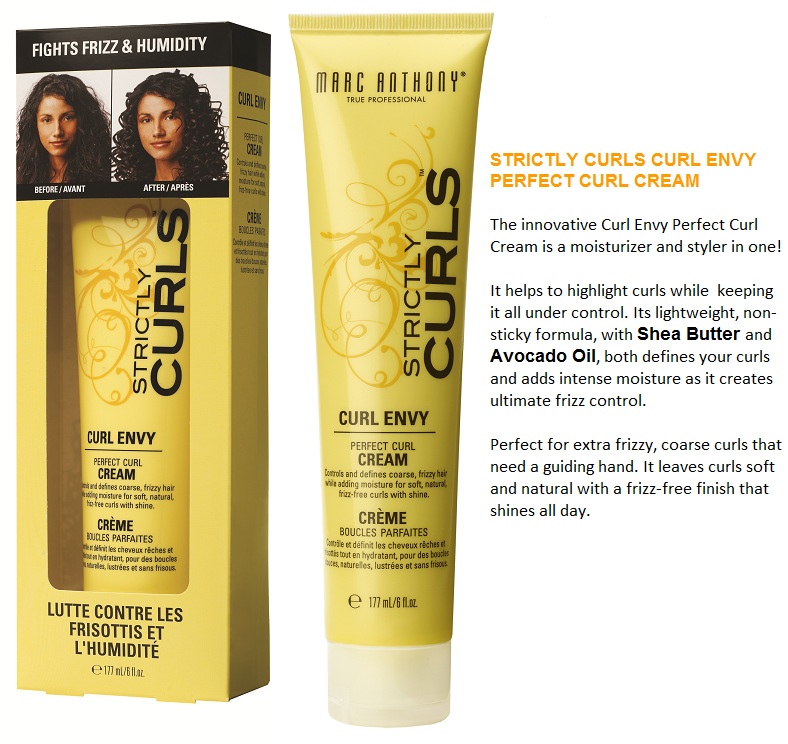 Prices

STRICTLY CURLS CURL DEFINING SHAMPOO
Price :: SD$16.90

STRICTLY CURLS FRIZZ SEALING CONDITIONER
Price :: SD$16.90

STRICTLY CURLS CURL DEFINING LOTION
Price :: SD$18.90

STRICTLY CURLS CURL ENHANCING STYLING FOAM
Price :: SD$21.90

STRICTLY CURLS CURL ENVY PERFECT CURL CREAM
Price :: SD$18.90
PUMP UP THE VOLUME WITH INSTANTLY THICK
by Marc Anthony Hair Care
Marc Anthony revolutionizes thin hair care with the hair thickening formula, Instantly Thick; a collection of products that actually expand each hair strand for thicker, fuller hair.
The unique lightweight formulation is infused with a secret blend of Hydrolyzed Corn, Soy and Wheat Proteins, called Phytokeratin, to expand each strand. Phytokeratin is a protein near identical to human hair; in this formulation it binds to the existing hair plumping up your locks for full volume from crown to tip.
Start your journey to thick, voluminous hair right from your wash with the Instantly Thick Hair Thickening Shampoo and Weightless Volumizing Conditioner. Get lasting volume and movement with Instantly Thick stylers - Hair Thickening Cream and Full Blow Out Lotion.
Prices
INSTANTLY THICK HAIR THICKENING SHAMPOO
Price :: SD$16.90
INSTANTLY THICK WEIGHTLESS VOLUMIZING CONDITIONER
Price :: SD$16.90
INSTANTLY THICK HAIR THICKENING CREAM
Price :: SD$18.90
INSTANTLY THICK FULL BLOW OUT LOTION
Price :: SD$18.90
DAMAGE REPAIR - THE ULTIMATE SOLUTION FOR DAMAGED HAIR
By Marc Anthony Hair Care
Dare to repair with Marc Anthony's Damage Repair collection, making split ends, frizz and brittle hair a thing of the past.
Every woman has either suffered or known someone who has had to cut off all their hair as a result of excess damage. Damage Repair builds support and health so the scissors aren't your only solution. "It's important first to say that the length of your hair is not alive so it cannot heal itself like your skin. This means products are necessary to repair the symptoms of damaged hair," explains Marc Anthony celebrity hairstylist.
"Damage Repair takes a three pronged approach to repairing damage: it promotes healthy growth; moisturizes to smooth the frayed appearance and is gentle enough to use on the most fragile damaged hair."
WHAT IS DAMAGED HAIR?
Damaged hair has an overall dry, brittle texture, looks coarse and frizzy and in general cannot hold color. It becomes very fragile and can break off in simple everyday styling or in severe weather.
Damaged hair isn't just over processed or the result of a bad perm or color. It comes with regular styling or coloring overtime. Regular trimming helps prevent extended damage, but gentle regular repair is necessary to maintain healthy locks.
HOW CAN DAMAGED HAIR BE REPAIRED?
Skin, hair and nails are made of varying thicknesses of the same molecular blend. This structure can become damaged and lose elasticity. Reduced elasticity in the hair means it will fray and break with any tension, including tension caused by brushing, blow-drying or even a strong wind.
Provitamin B5 is really the miracle cure for your hair. It promotes body and shine, stimulates  circulation to promote healthier growth while deeply moisturizing from the inside out to promote healing. Damage Repair nourishes even the tiniest parts of your hair so stressed hair is given added support to resist breakage and frizz.
Prices
DAMAGE REPAIR HEALING SHAMPOO
Price :: SD$16.90
DAMAGE REPAIR HEALING CONDITIONER
Price :: SD$16.90
DAMAGE REPAIR INTENSIVE HEALING TREATMENT
Price :: $18.90
BRILLIANT COLOR - ESSENTIAL FOR LONG LASTING LUMINOUS HAIR COLOR
By Marc Anthony Hair Care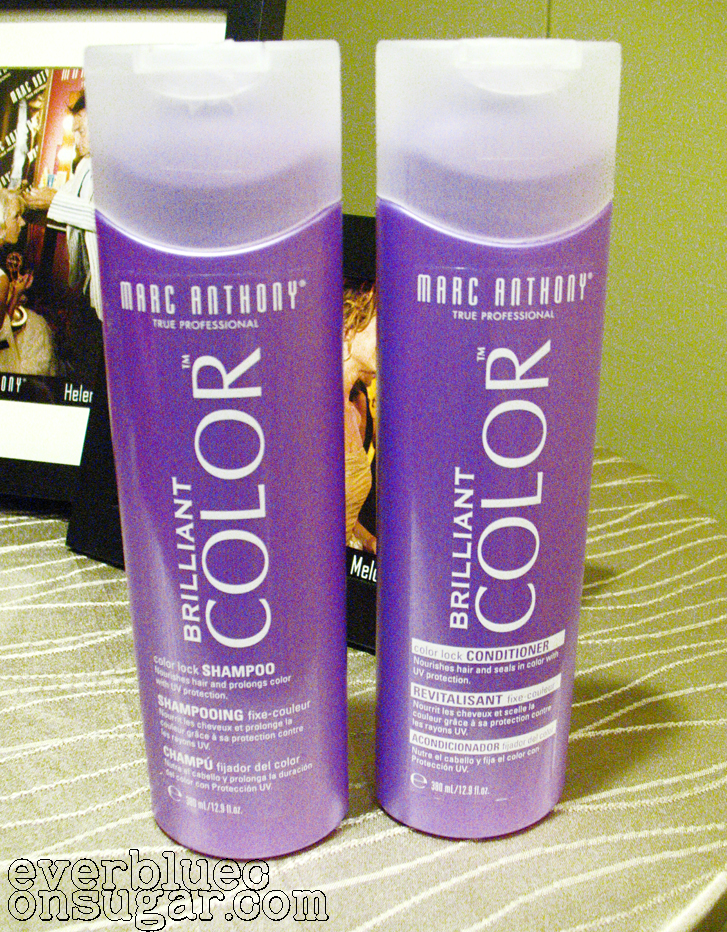 Hair color fade no more, Marc Anthony's Brilliant Color Color Lock Shampoo and Conditioner is the ultimate in care for color radiance and protection.
"We took the guess work out of long lasting color," says Marc Anthony, celebrity hairstylist. "Too many women are let down by color protecting products that don't deliver. Simplicity is the fundamental reason behind the Brilliant Color collection. I want women to be  able to wash their hair with the confidence that they wash the day out and not their hair color."
WHY DOES COLOR FADE AND LOOK DULL?
It's the same principle found in fading clothes – color is stripped in every wash because the color molecules are lifted from the fabric. In hair care, fade-out is two-fold: Color and Shine.
Color fades because the color molecules do not stay whole from styling or environmental damage, it breaks apart and slips away losing intensity. Over time the molecules unlock and become loose from the cortex, the inner layer of the hair strand, and wash away.
Shine is lost when the transparent outer layer, the cuticle surface, becomes dull or damaged. The cuticle layer locks color in the cortex by sealing it closed and reflects light to create brilliant shine. If this layer is not nourished two problems occur: the transparency clouds leaving hair dull and flat and the scale like layer lifts allowing color to fade with every wash.
HOW DOES BRILLIANT COLOR MAINTAIN LUMINOUS SHINE AND RICH COLOR?
There are two key ingredients that defeat dulling: Provitamin B5 and Citrus seal the cuticle layer of the hair to
1) create a light reflective, smooth cuticle surface to enhance shine and
2) lock in color pigment and moisture. It keeps your hair looking vibrant, rich and healthy.
Brilliant Color Color Lock Shampoo and Conditioner are essential for long lasting, luminous hair color.
Prices
Brilliant Color Color Lock Shampoo
Price : SD$16.90
Brilliant Color Color Lock Conditioner
Price : SD$16.90
OUTSHINE THE COMPETITION WITH MOISTURE GLOSS
by Marc Anthony Hair Care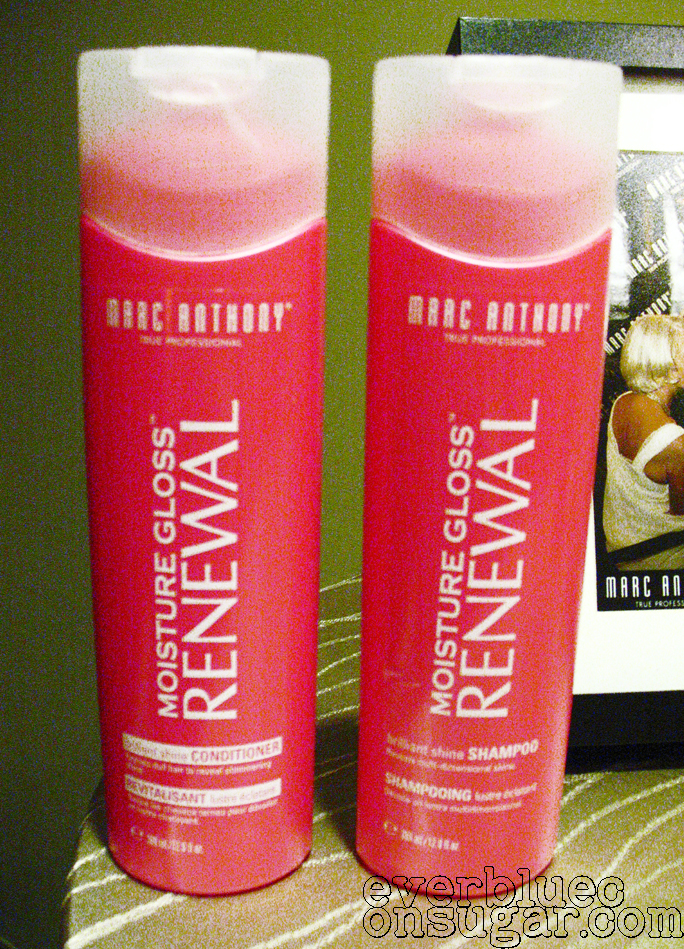 Bring on the shine with the Moisture Gloss Brilliant Shine Shampoo and Conditioner by Marc Anthony – for brilliantly glossy hair and multidimensional shine.
Enriched with micro-refined silicones, this revolutionary, ultra-light formula penetrates deep into the core of the hair strand; unlike other glossing products that lay on the outer cuticle creating a heavy build-up.
"I spent the better part of a decade perfecting this blend of microrefined silicones to gloss your hair from the inside out without adding unwanted weight," says Marc Anthony. "Your hair will shine like the star you are."
Prices
MOISTURE GLOSS BRILLIANT SHINE SHAMPOO
Price :: SD$16.90
MOISTURE GLOSS BRILLIANT SHINE CONDITIONER
Price :: SD$16.90
BREAK UP WITH FRIZZ FOR GOOD WITH BYE.BYE.FRIZZ
by Marc Anthony Hair Care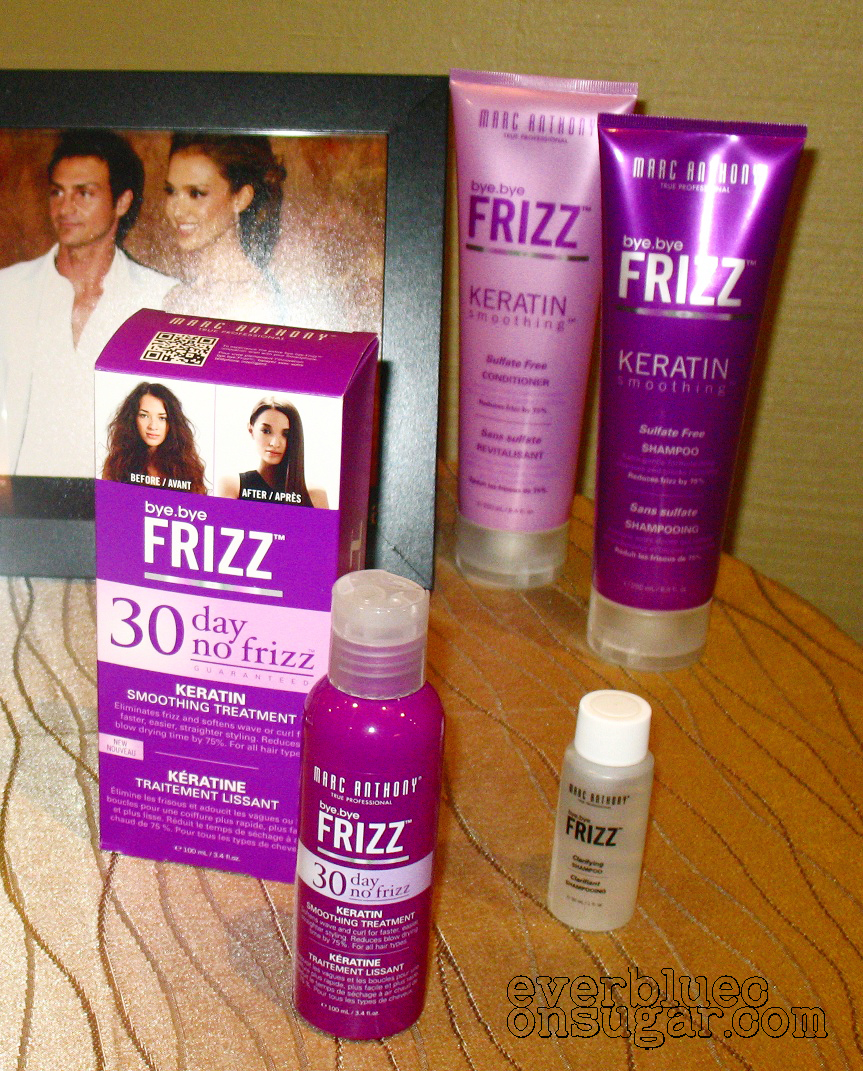 Frizzy hair days - a relationship we could all do without. Whether it has been with you from the very beginning or as a sudden mid-hair crisis, it's time to break up with unruly frizz for good. The best way to get over a bad hair relationship is to find something new; and do we have the perfect match for you!
Meet the bye.bye.Frizz Keratin Smoothing Collection for long term frizz control.
No more hiding under hats, pulling into a pony, or overdoing the flat iron. The daily bicker with frizz ends here!
NOT JUST 1 BEAUTY SOUL MATE; WE GIVE YOU 3!
The courtship begins in silky bliss with 30-Day No Frizz Keratin Smoothing Treatment. Whether curly, wavy or straight, keep your frizz-free look for up to 30 days. This 'knight in shining armor' not only cuts down blow drying time, it protects you from foes like daily styling, hot tools and dreaded UV rays. Your hair will be strong and ready to face the world.
Take the relationship to a higher level when you meet the family - bye.bye.Frizz Keratin Smoothing Shampoo and Conditioner; the ultimate support system for good hair days. Get daily frizz-free hair care with ultimate ease and even more damage protection. 'Happily ever after' has never looked so chic.
HAIR THERAPY - WHAT MAKES FRIZZ TICK?
We can't just say goodbye to frizz without discovering where the relationship went wrong. Let's take a deeper look.
It all began with the cuticle... The cuticle is the outermost part of the hair shaft made up of dead cells that protect the inner structure of the hair and give it strength. It looks very much like overlapping layers of roof shingles. When the cuticle is lying flat or closed it looks smooth and allows light to be reflected off the surface for a natural sheen. When the cuticle is open hair appears frizzy, dull and coarse. Many factors can contribute to a frizzy cuticle.
TEXTURE: Some hair textures inherently have a cuticle that just won't lie flat; curly hair being one of them.
DAMAGE: Stress from daily styling, hot tools, chemical processing and the elements can roughen the cuticle.
DEHYDRATION: Dehydrated hair becomes brittle causing the cuticle to rise. The problem compounds since theopen cuticle lets even more moisture escape.
HUMIDITY: Alternatively, when hair encounters humidity the inner layers of the hair begin to swell creating breaks in the cuticle, making it jagged.
It seems that frizz has a lot of issues and some things therapy just can't fix. Time to move on to a date with hair destiny – cuticle smoothing bye.bye.Frizz.
Prices
BYE.BYE.FRIZZ 30-DAY NO FRIZZ KERATIN SMOOTHING TREATMENT
Price :: SD$29.90
BYE.BYE.FRIZZ KERATIN SMOOTHING SHAMPOO
Price :: SD$19.90
BYE.BYE.FRIZZ KERATIN SMOOTHING CONDITIONER
Price :: SD$19.90
DREAM WAVES BEACH SPRAY
by Marc Anthony Hair Care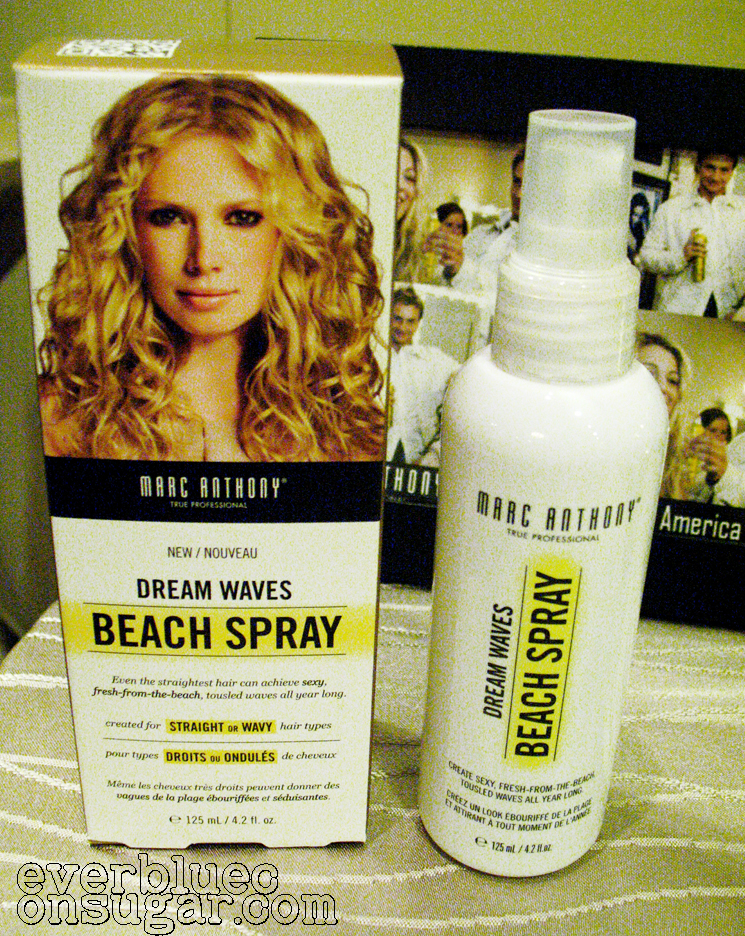 Dig that that beachy tousled look? Marc Anthony turns that beach wave fling into a full-on hair affair with NEW DREAM WAVES BEACH SPRAY.
EVEN THE STRAIGHTEST HAIR CAN ACHIEVE FRESH-FROM-THE-BEACH, TOUSLED WAVES ANY TIME ANYWHERE.
DREAM WAVES BEACH SPRAY is a beach 'genie' in a bottle. It creates natural, effortless, beach hair worn loose, soft and wavy. It adds body and texture to straight, fine strands or pumps up the curl in already wavy hair.
Hydrolyzed Silk and Provitamin B5 protect your tresses while adding moisture and shine.
Powerful UV Protectors absorb ultraviolet light to save your mane from harmful sun exposure, dehydration and color-fade.You're left with manageable, touchable waves.
DIRECTIONS:
Spray evenly all over damp or dry hair. Scrunch hair to amplify a wavy texture. Allow to dry naturally for a soft finish or, for high voltage waves use a diffuser while scrunching.
Yearn for that perfect, flirty summer hair no more. DREAM WAVES BEACH SPRAY has you covered.
Price
DREAM WAVES BEACH SPRAY
Price :: SD$21.90.
SECURE AND GO IN AN INSTANT WITH PRO FINISH
by Marc Anthony Hair Care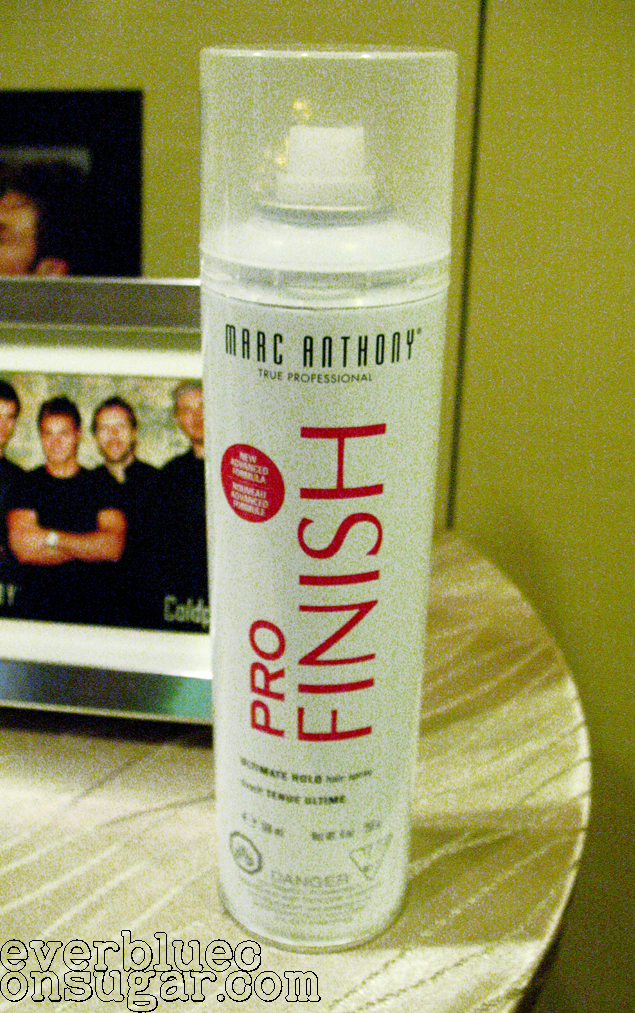 Hair goddesses rejoice. Finally, a way to get out of the minor leagues and into pro with Marc Anthony's Pro Finish Ultimate Hold Hairspray.Marc Anthony drops his fast-paced world of fashion and celebrity styling at your doorstep with his ultimate finishing product.
PROFESSIONAL HOLD. PROFESSIONAL FINISH.
Whether you need just a little or a lot of hold, Pro Finish Ultimate Hold Hairspray keeps your hair looking freshly done all day long. Its non-sticky formula finishes your look with sexy, touch me style whether you are cool and professional or up close and personal.
It is formulated with a ProVitamin B5 and Aloe blend that binds to the hair shaft to add luminous shine, while offering definitive hold without stickiness or flaking, which is important when you need hair to be perfect each time.
Price
Pro Finish Ultimate Hold Hairspray
Price:: SD$21.90
$21.90.
Marc Anthony Hair Care are available exclusively at Watsons.
I haven't try out any of the products yet, cos I'm wanna finished my shampoo first :) I will start using Instantly Thick range tomorrow and will do a review on it after trying it for a period of time.
Disclaimer:
I was invited to the bloggers event, products were provided for reviewing.(Not all products mentioned above)
I'm not affiliated with Marc Anthony True Professional, touchcomm nor Starasia Singapore.
This entry is just an introduction of the brand and products entry - NOT review. Will do seperate review's entry on different products