Aloe Soothing Skin Renewal Mask - relieves skin stimulation fast with its Aloe extract which helps skin soothing.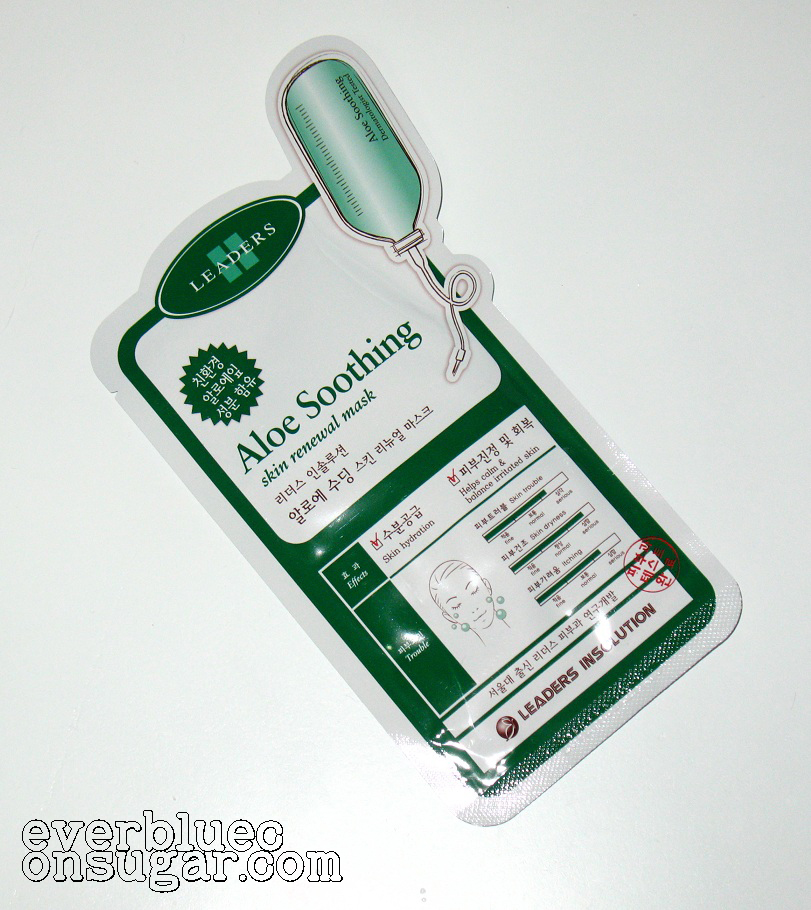 LEADERS InSolution Mask - the upgraded version of Leaders Clinic Mask with newest technology and Natural ingredients.
:
All Leaders InSolution Masks are...
Paraben (preservative) FREE,
No Mineral Oil, No Silicon, No Artificial Pigment
Relief Skin Irritation (made of chamomile extract),
Natural Preservative System (made of Azalea extract) and
Natural thin & silky cellulose sheet mask.
:
[Click on the image to enlarge]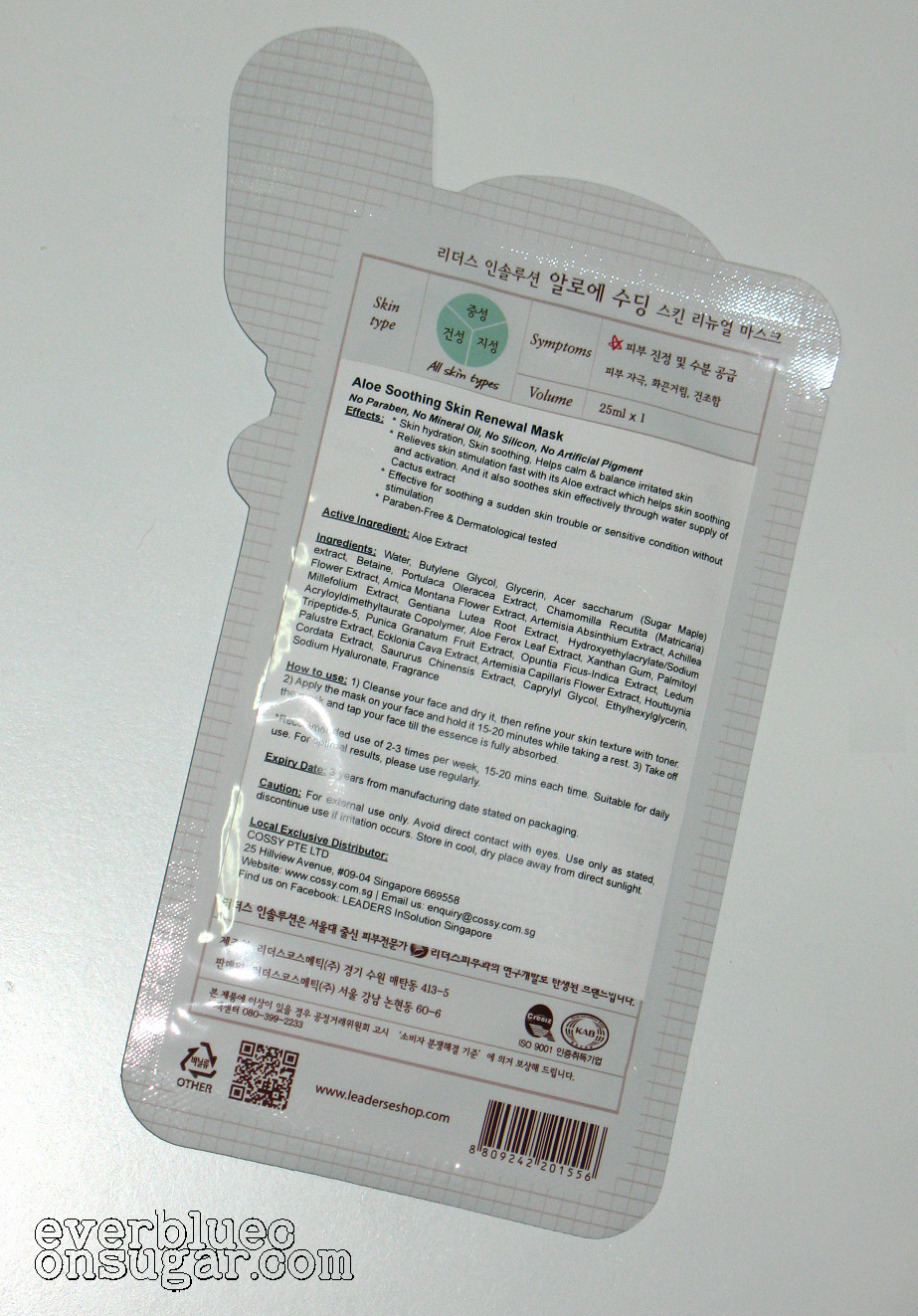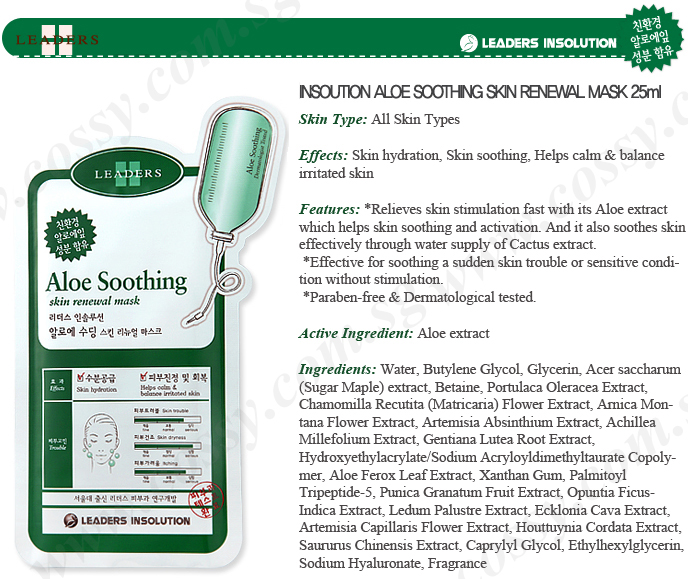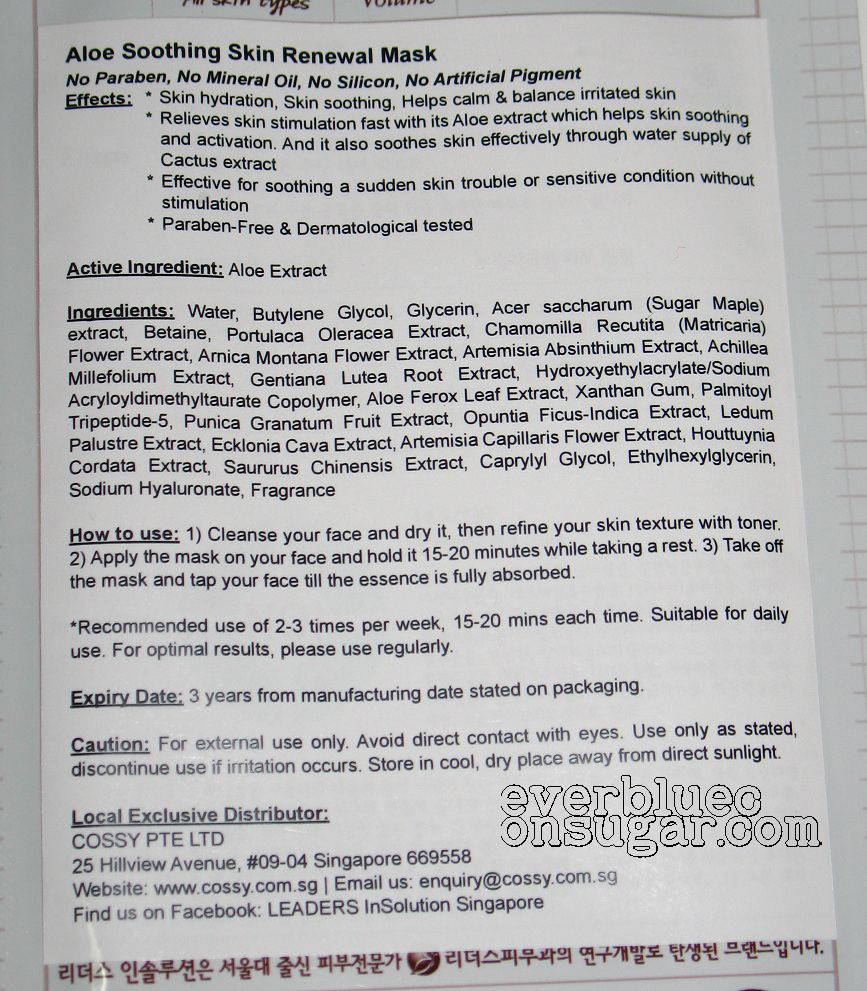 Ingredients list... [click to enlarge]

The Insolution mask(same as all Leaders's masks) - they use natural cellulose sheet and it stick on my skin nicely and the serum doesn't dry up fast.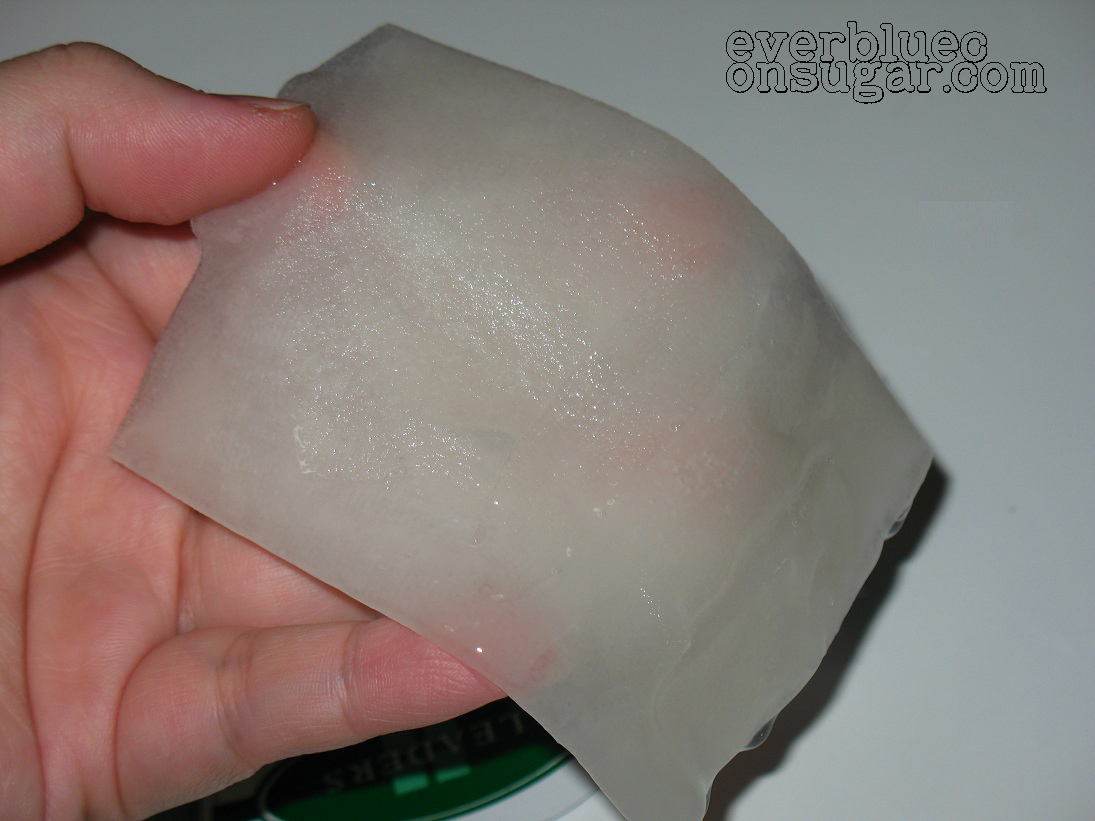 (Taken with flash - it look soooo transparent!)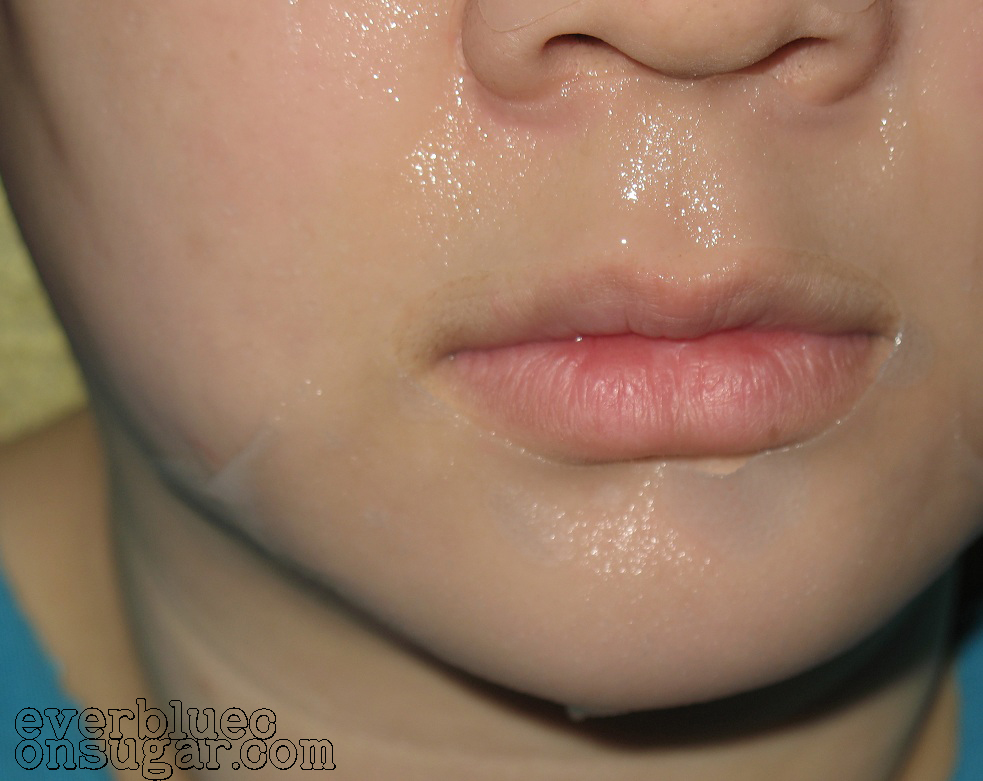 (Taken without flash - it look thin, light and stay on the skin well)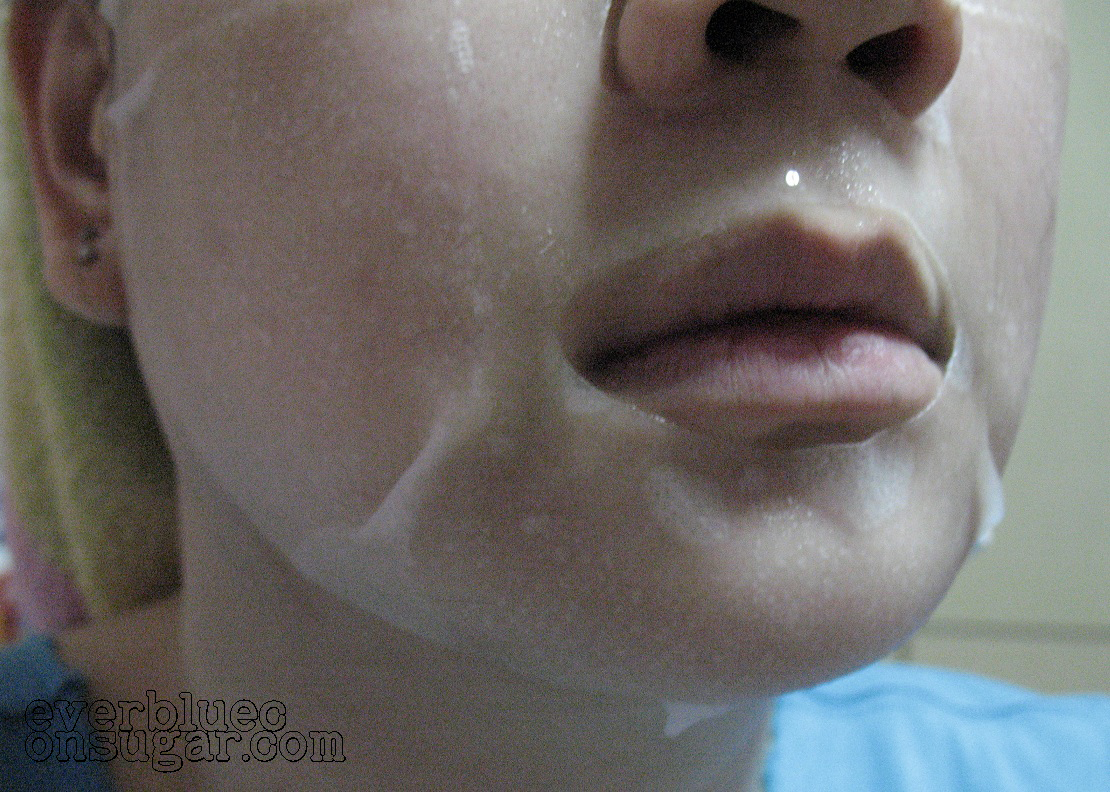 During the 20 mins masking, my skin feel cooling and oh so refreshing.
Didn't cause any skin irritation
doesn't cause any break-out
No stinging/buring sensation
feel really soothing (especially during this super HOT and humid weather)
Skin look and feel moisturized
Pores look less dry
Does calm trouble and tired skin
After removing the mask, I prefer to wipe off the serum with toner or just rinse off with water and then follow up with my skincare's routine.
(Why wipe off /rinse off the mask serum - well, that's because whatever need to be absorb into the skin already absorbed.)
Suitable for all skin types.
:
:
Retail Price : SD$3 each
Available at Watsons Singapore
:
:

Sole Distributor (Singapore): Cossy Ptd Ltd
Available at www.cossy.com.sg
Read more about Leaders Insolution ->>> click here <<-
LEADERS Insolution is a prestigious skincare line with estimated sales of more than 500, 000 masks monthly.
->>>>> For more information http://www.cossy.com.sg/details.php?id=48
Check out LEADERS Insolution Singapore Facebook Page
->>>>> www.facebook.com/cossysg
:
:
:
Disclaimer:
Product was provided by CossySs
I'm not affiliated with CossySg not Leaders InSolution