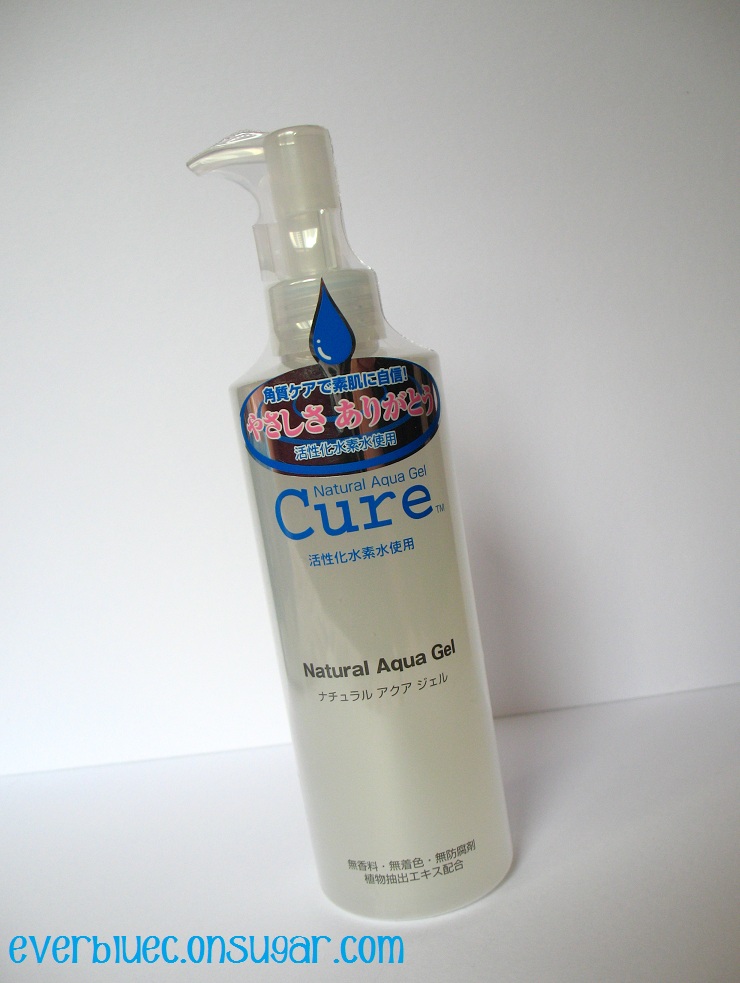 Sharon (Brand manager of Japalang) pass me a bottle of Cure Natural Aqua Gel Exfoliant during one of our meet up last month.
I have been using the sample packs she gave me before I open the bottle! Each pack was good enough for 2 uses (But I always use up all.. cos I don't like to keep.  I use the rest on my fingers and patchy areas on my elbows/knees)
Cure Natural Aqua Gel Exfoliant
- Made of natural ingredients (rosemary, gingko biloba, aloe vera)
- Mostly water with an active ingredient of 91% revitalized hydrogen water
- Free of alcohol, artificial colouring and fragrance
- Cruelty-free and not tested on animals
- Suitable for all skin types and sensitive skin
Cure Natural Aqua Gel Exfoliant is a mild and gentle watery gel liquid exfoliator that remove dead skin cells on our skin. Can be use on face and body. ((Very similar to the Ginvera Green Tea Whitening Marvel Gel- but that doesn't work on me :( lolx))
I rotated this Mild exfoliator with SkinFood Black Sugar Scrub foam (Review).  
I use Cure most of the time, when I'm not using the sugar scrub foam.
Why I still use the sugar scrub foam???
Because of the calming effect... and I also need a stronger scrub for my nose(I have strawberry nose! lolx) 
Do I like it??
Yes, I do.. it was so gentle that I can use it almost everyday (Not really everyday la)
I like how soft it make my skin feel...  (((OK!!!)))) I know, almost all scrubs have the same smoothness effect! But Cure was so mild and gentle, my face doesn't feel tight or dry after using it!
I use this more often when I feel that my skin was really bad, especially during the week before the mense (That's the week our skin suck the worse!)  And once during the menses week (Our skin is more fragile during the menses week.)
When do our skin feel the best?
The week after our menses ended. (How I wish my skin feel that good everyday rather then the tiny 2 weeks, before it went downhill again!!) "
Directions
 I use a brow liner to draw afew lines on the back of my hand... then use a tissue to rub it off.
(Do note that this is not a makeup remover- I just wanna make my hand abit dirty so that the rubbery bits will be more visible)
It also explain that if you have a thick layer of dead skin cell.. the rubbery residue would be more greyish.
Note::
Our face has to be clean before doing any scrub/exfoliator  (This is the last step of your cleansing routine)
And when using Cure... face and hands have to be dry.  
Using too much products will be too watery to produce the rubbery bits(residues- that will lift up your dead skin cells)... which means it gonna take awhile to work it.  
Spread it out and massage in circular motion.
The amount I use here was good enough for the whole face!
I squeeze out much product, so I tissue off abit before I massage
After massaging the face and it start to feel abit dry...
rinise off the residues with warm water and follow up with your normal skincare routine.
Ingredients of Cure Natural Aqua Gel:
water (activated hydrogen water, non-acidic and purified), glycerin (a moisturiser), acrylates/C10-30, alkyl acrylate crosspolymer (a thickener), dicocodimonium (a conditioner), chloride, steartrimonium bromide, aloe barbadensis leaf extract (moisturises, protects rough skin), gingko biloba extract (moisturises, prevents skin-mottling and freckles), rosmarinus officinalis/rosemary leaf extract (possesses anti-inflammatory and anti-bacterial properties), butylene glycol. (Source : makeupstack)
I can't find the ingredients list(anywhere) and thankfully Mag(makeupstash) have it listed out! (Check out her indepth review on this product)
Price: SD$42
Available at Watsons (Singapore)
For countries outside Singapore, you can order it thru the website BeautyCarouse
Feel like trying Cure Natural Aqua Gel Exfoliant? Get free sample pack from BeautyCarouse
Learn more about Cure Natural Aqua Gel Exfoliant from our local website
Check out their Facebook fanpage
Disclaimer: I am not affiliated by Japalang, all reviews published here were base on my own opinions. Product was given to me by Japalang to try/review.